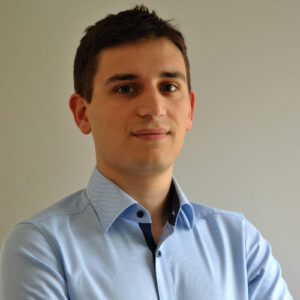 Contact
Johannes Gutenberg University Mainz
Faculty 02: Social Sciences, Media, and Sports
Institute of Sociology
Sociology of Technology and Innovation
Jakob-Welder-Weg 20
55128 Mainz
Philosophicum II, Room 03-309
Tel +49 39-24828
E-Mail
Massimo Rusconi is a PhD student in Methods and Models for Economic Decisions at the University of Insubria (Italy), a visiting PhD student at the Technology and Innovation, Social Simulation Lab at the Johannes Gutenberg University Mainz (Germany) and a guest researcher at the department of Innovation Economics at the University of Hohenheim (Germany). He holds a bachelor's degree in Philosophy (B.A.), a double-master's degree in International Business and Economics (M.Sc., U. Hohenheim) and in Global Entrepreneurship Economics and Management (M.Sc., U. Insubria) with focus on Innovation Economics, and a second-level master's degrees (third cycle) in Data Science (U. of Milan). He works on simulating knowledge networks by means of Agent-Based Modeling techniques and on the epistemological issues related to the application of ABMs.
Research focus
The epistemology of simulation techniques with a focus on Agent-Based Models and emergent phenomena;
The notion of distributed cognition and the concept of knowledge in the literature of Economics of Innovation;
The development of an Agent-Based Model on knowledge-flow dynamics and reuse of existent knowledge in innovating firms.